PROTIP:
Press
'i'
to view the image gallery,
'v'
to view the video gallery, or
'r'
to view a random entry.
This submission is currently being researched & evaluated!
You can help confirm this entry by contributing facts, media, and other evidence of notability and mutation.
About
Seize the means of production refers to a quote from W. E. B. Du Bois. from his autobiography published in 1968,[3]
"It is a historical fact that blacks were brought to this country for the profit of the ruling class which at the time were landowners. They needed someone to till the soil and grow profitable crops. Today we have shifted from an agrarian economy to a goods-production economy. But the same relationships exist between the private owner and the worker. Nothing has changed. Therefore, for working people to be free, they must seize control of the means of production."
"All members of the working classes must seize the means of production. This, naturally, includes black people. But as I said before, to do this we must become psychologically free so that we can be fully capable of meaningful self-determination. Capitalism deprives us all of self-determination. Only in the context of socialism can man practice the self-determination necessary to provide for their freedom.".
Origin
On August 29th, 2008, Twitter user, @Kelseyharmon uploaded a tweet of a picture of Joseph Stalin, congratulating him for seizing the means of production[4]
Spread
On September 12th, 2008, Twitter User Gaythoven tweeted a picture of a bop it comic showing Karl Marx with a quote "Seize the means of production" ,[7] garnering upwards of 900 likes and 100 retweets. (shown below).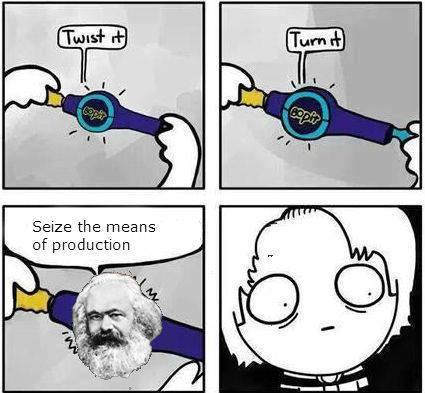 On September 24th, A picture of Obama next to a sign that says Seize the means of production was posted on Facebook before archived. It gained over 300 likes and 124 comments[6](shown below).
On October 4th, A picture of Che Guavera holding dual nerf pistols with a quote "Seize the means of producion" was posted on Facebook. It gained 290 likes and over 200 comments.[2] (shown below). .
Various Examples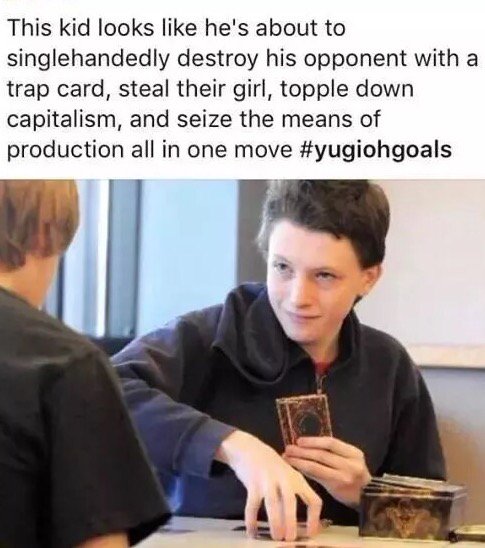 Search Interest
External References